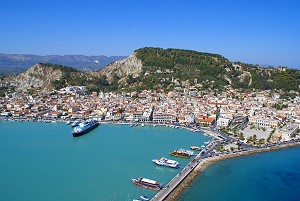 Welcome to the beautiful Island of Zakynthos! It is located on the west side of Greece, on the south of the Ionian Sea, across from the Peloponnese. Many thousands of visitors from all over the world come to visit the island as its beauties are well known.
The amazing beaches are the island's main attraction along with the Caretta Caretta turtle. Beautiful sandy beaches with clear waters in all the ranges of blue are situated throughout. The Shipwreck cove among the most photographed beaches in the world, the untouched and protected Gerakas beach, the deep cold and blue waters of the rocky Porto Limnionas and the long sandy family friendly beaches of Kalamaki and Laganas are just a few.
The endangered Caretta Caretta turtle is a rare animal that chooses some of these beaches to lay its eggs. The National Marine Park is in charge of protecting it helping to keep the natural sea environment in equilibrium.
---
Zakynthos town is a scenic island capitol with pedestrian roads, the glorious Saint Dionysios church (Patron Saint of Zakynthos), a port road with many cafes and restaurants, historical squares like Saint Marcos and Solomos, museums that protect the island's heritage as well as the beautiful Bohali hill with the breathtaking panoramic views and the old Venetian Castle that still stands strong.
Another special part of the island is the traditional villages, hidden between the mountains that give you a true taste of rural Zakynthian life.
Homemade wine, cheese, olive oil, embroideries and honey are a few of the products you will find sold on the side of the road or in workshops that run through generations.
Whether you are looking for fun in the sun, Kodak moments and endless beaches or a little bit of culture, history and religious experiences then Zante, as it is widely known, will live up to your expectations and even overcome them!